How to rank in Google

BrisTechTonic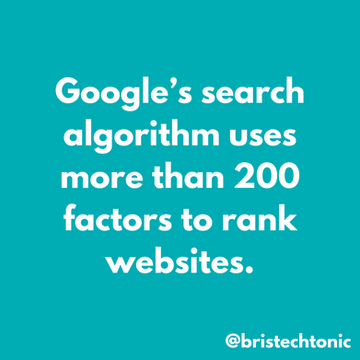 Google Algorithm's 200 Factors
Search Engine Optimisation (SEO) can seem quite intimidating, especially when you consider that Google's search algorithm uses more than 200 factors to understand your content and rank your website. However, by focusing on a few specific factors when writing your web copy, you have the opportunity to cater to the algorithm.
We can divide Google's algorithm factors into a few different categories. Page-Level, Site-Level, and Domain Factors consist primarily of keyword placement. Google uses bots, or "spiders", to scan your content for these keywords, which determine the search queries your webpages will appear, or rank, for as a top result on the Search Engine Results Page (SERP). Commonly, placing keywords in specific locations, such as your page's title, headers, and description will help your rank. Beyond keywords, length, loading speed and age of your content all play a role in these algorithm factors.
We can also consider Backlink Factors, such as the number of links you include in your content, and User Interaction Factors, including your website's click-through and bounce rate.
Google has a few special rules to their algorithm as well. When searching for a local business, you've likely noticed that they utilise geo-targeting to rank results that are local to your location at the top of the page, above the remainder of organic search results. Similar formatting applies to shopping and top news stories results.
With a bit of special attention to these factors, you have the opportunity to craft your webpages to appease Google's 200-factor search algorithm and move up in the ranks in no time.
It's really important to make sure Google knows about your website, and an easy way to do that is adding your site to Google Search Console.