Use Keywords Early On

BrisTechTonic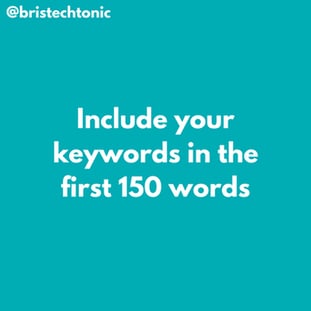 Use it early, is the secret
When you've got your keywords or key phrases... you should look to include them in the first 150 words of your page or content.
By doing this, Google thinks... hey... there's a Title about That thing there, oh wow, and they're talking about it underneath that title - they're probably talking about that thing.
If you're a little stuck about which keywords to use, I really recommend checking out Answer The Public; it's amazing for helping find what people are searching for and how you can include these words in your SEO Strategy!
So by having your URL, Page Title, Headings, Content all using keywords, and early on, Google (and other search engines!) will quickly think that you're probably talking about that thing.
Remember... if it walks like a duck... talks like a duck.... looks like a duck... it's probably a duck.
We've got loads of content in our eBook, SEO Demystified, it's an SEO for Beginners book that's full of handy tips with loads of free resources that will help you plan your SEO strategy!
This site contains affiliate links to products. We may receive a commission for purchases made through these links. Thank you for supporting small businesses!