Why Image Optimisation Matters

BrisTechTonic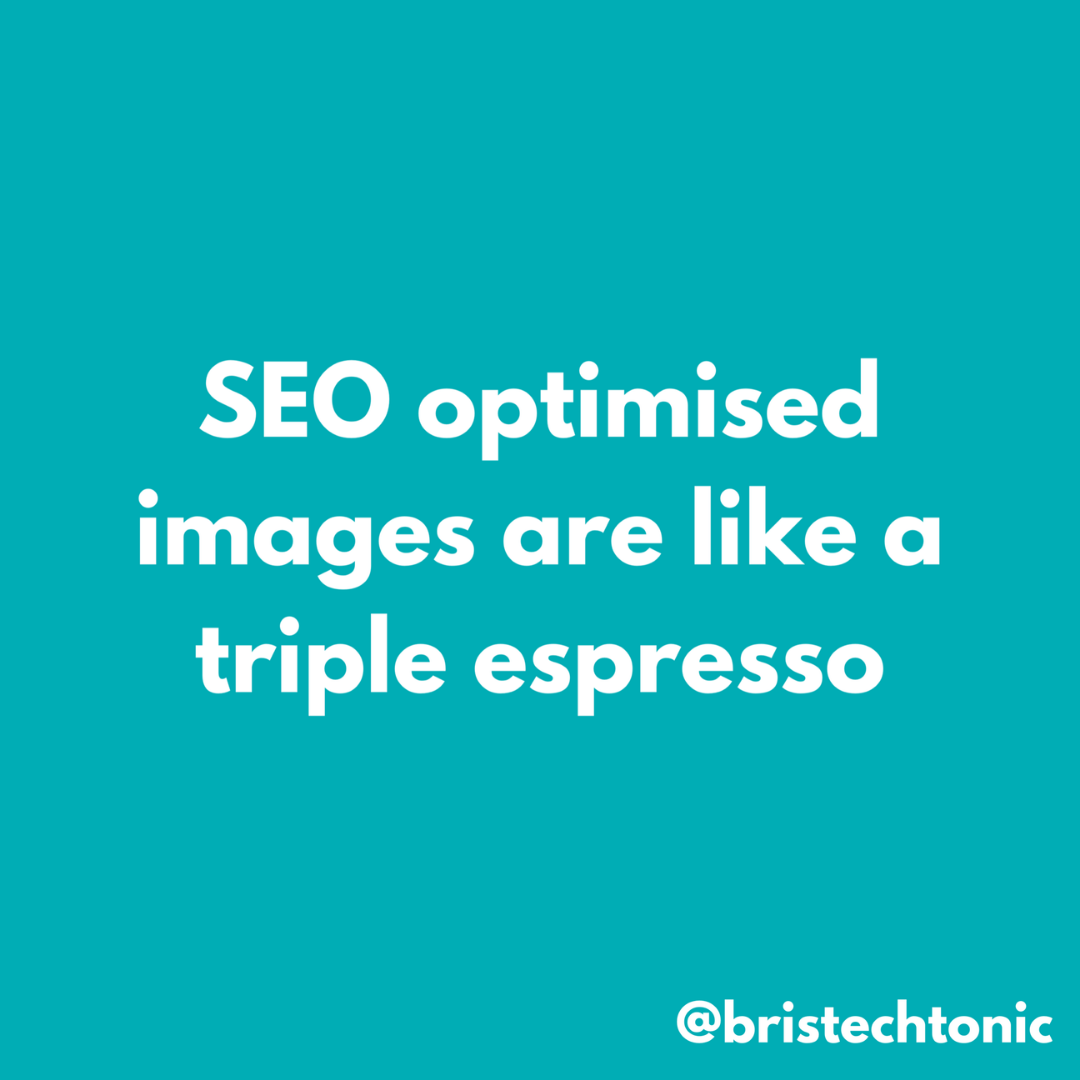 How to Optimise Images for SEO
We're going to use a few tools, in this order:
Compressor.io

Geoimgr

Naming

Alt tags
Image Optimisation
Once you pick a photo, use a free compression software, like compressor.io to make it as small as it can go before it loses any quality. Any removal of excess photo data will speed up loading times so readers won't have to wait. If you use WordPress, look for plugins such as Smush that do this on the fly!
Geo-Tagging
After you've compressed your image, head on over to https://tool.geoimgr.com and upload your photo. Then, find the location you want to tag on the map. In the document name and image description, write something meaningful; similar to the file name (we'll get to that next) and what the picture is/relating to your business. For example, I've uploaded an image talking about SEO Services in Bristol.
So, I've tagged the image as being in Bristol. I've called it "bristol seo services" and give it a description of "bristol seo services".
Next, I'm going to click Write EXIF Tags. After a moment, it'll have done its work and you can then download it.
Naming
Now you've got your optimised, geo-tagged image, we're going to name the file.
In the example we're using, I'm going to name my file "bristol-seo-services.png". This matches the content, the document name, the image description, and the location. Can you see how it's all linking together? I'll then upload that file to use on my website. It's really important to use "-" in-between each word - that way, Google knows how to separate the words in the picture. Note that you can have lots of pictures on your home page, just try to alter their names and tags, for example, "bristol-seo-services.png" and "seo-services-bristol.png".
Alt Tags
We're almost there, now you've got your image nicely placed on your website, it's time to add Alt Tags. This is basically the description Google sees of your image, it then links it to the file name, location, document name, image description. By this point, you've probably worked out if it walks like a duck, talks like a duck… it's probably a duck. Google thinks so too and is more likely to show this result, especially locally for local SEO, if you've done all these things. An added bonus when using Alt Tags (Or, in some website builders such as Wix and Square space, they're called document names or image descriptions) is that Alt Tags are read out if someone uses accessibility features of their computer. So for instance, if you've got a picture of a duck, and alt tag of a duck (as well as image name, file name, and all the things we've talked about so far) - Google is more confidently going to read out loud "this is a picture of a duck" - simples!