Why do backlinks help organic traffic?

BrisTechTonic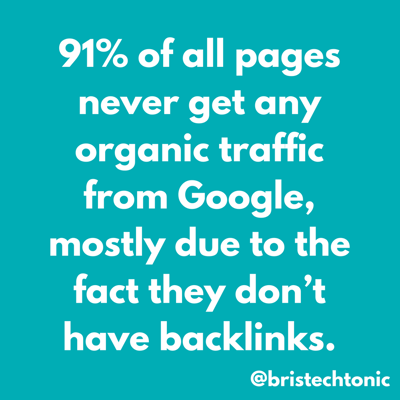 How to increase traffic to your website
Yep, you read that right. Just 9% of all pages on the internet get organic traffic from Search Results. Let's break that down so it doesn't feel quite as scary and look at what you can do about it.
By creating backlinks to your pages for keywords or keyphrases means you'll increase the chance your site gets found for those specific keywords.
For instance; you've got a blog post relating to a new cake recipe and it's full of interesting things.
That post exists on your website. But you haven't shared it on Social Media, you haven't told any other website that you've created that post, so your blog article just sits there, on its own, gathering internet dust.
The more you list and share that article, the more times search engines see it shared. The more time it appears on another site, the more times it gets indexed. The more backlinks it creates.
Think of it this way; if you've got 2 pages on your website; one you shared on social media and one you haven't. Likely; the only one that'll get clicked on is the one you did share. The one you didn't share may only be clicked on by pure chance.
You should try to create as many backlinks and routes into every page on your website as possible.
Ready to Build Your SEO Backlink Strategy?
Your SEO backlink strategy should serve as a key part of your marketing plans. Without a great backlink strategy, you won't grow your web traffic, reducing your ability to convert people into customers.
If you want to start building backlinking strategies, let us help. We provide high-quality backlink-building services that help you get to the top of search engine results.