Why you should strive for the top 5

BrisTechTonic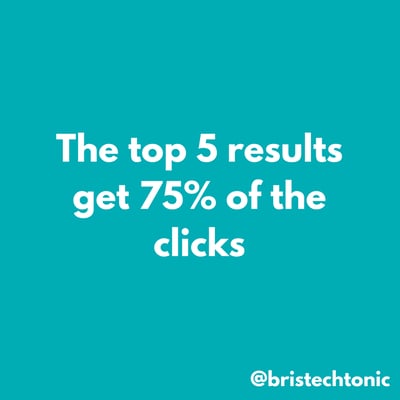 SEO Optimisation to get to the top of Google
Whatever it is you want to do on your website, whatever it is you want to sell or service you want to offer - stop and think about what happens when you search for something yourself.
How often do you scroll through the Google results pages to check something out? The honest answer is probably not very often. Having your site on the first page and in the top 5 results means you're far more likely to get clicked on.
Thinking about the content on your website and how it's written, how it's represented, and how user friendly it is. By optimising your site (technically and with great content) you're massively increasing your chances of appearing in the top 5 search results.
The internet is built by humans, so it responds to human language. By writing your content in terms that are likely to be used by people when they're searching for you, the organic SEO growth will start to do its work on autopilot.
Of course On and Off-Page SEO is vital for increasing the chances of getting into the top 5 - check out the other topics and blogs on this site to help grow your search engine rankings.
Ready to Build Your SEO Backlink Strategy to boost your rankings?
Your SEO backlink strategy should serve as a key part of your marketing plans. Without a great backlink strategy, you won't grow your web traffic, reducing your ability to convert people into customers.
If you want to start building backlinking strategies, let us help. We provide high-quality backlink-building services that help you get to the top of search engine results.