Backlinks and Ranking

BrisTechTonic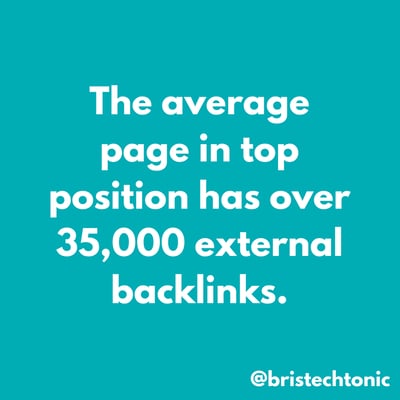 Quality Backlinks help boost your Organic SEO
Quality over quantity is probably something you've heard before. It applies to most things in life, and in technology.
Ensuring you have high-quality backlinks to your website and high-quality content is so crucial when Google evaluates your overall online presence.
Make sure you have great content, great keywords, and key phrases in use throughout your site.
You also need to ensure that you have good quality backlinks to each of your pages to help get found in Google.
You may have heard of something called Domain Trust or Domain Authority; this can be summed up as "How trustworthy is this site?" It's not an exact science but there's a lot of signals that go into it.
How many people use it? Does it get a lot of "good" traffic? Do "good" websites refer to and from it? It all paints a picture of the website to help build the Trust/Authority of the website. How long the domain and website have been in existence also plays a big part.
Now if you apply that to your website; the higher your Domain Authority or Domain Trust is, the better Google will view you, and the more willing it'd be to refer searchers to your website. To increase your authority and trust, you need to build backlinks from reputable and high domain authority sites.
Put simply, if a good website is referring to your website, you must be ok, right?
Ready to Build Your SEO Backlink Strategy?
Your SEO backlink strategy should serve as a key part of your marketing plans. Without a great backlink strategy, you won't grow your web traffic, reducing your ability to convert people into customers.
If you want to start building backlinking strategies, let us help. We provide high-quality backlink-building services that help you get to the top of search engine results.