Choosing the Right SEO Course for Your Budget

BrisTechTonic
Digital marketing in the UK grew by almost 10 percent in the past two years and is promising more growth in 2022. Savvy advertisers are using blogging and email marketing to market their products. Yet, without incorporating the right SEO tips and tricks, you won't attract the right audience.
Besides, poor SEO techniques will only lead to poor conversion rates. This is why you need to take an online SEO course.
However, you can't just take any course you find online. Here are three tips for choosing the right online SEO training UK course for your budget.
1. Verify Tutor Credentials
If you are going to invest your resources in a course in SEO, you need to know who you are getting information from. Most of the SEO online courses outline the credentials of tutors. It's always wise to carry out extensive research on the background of the trainers and authors.
Consider taking the course if the tutors are reputable in the digital marketing industry. This is the best way to ensure that the methods in the course will work.
2. Evaluate Course Content
When looking for an online SEO course, you must think about what you want to learn. There must be some skills you lack that are inciting the need for this course.
Pay attention to the course content when going through the various course programs. There is no need to take an SEO beginner course when familiar with all the content.
While evaluating the SEO training package, check whether it's more theoretical or practical. Choose an SEO online course with practical content to help you keep up with emerging SEO trends.
3. SEO Course Cost
When looking for an SEO online course, don't necessarily go for the most expensive one, thinking it will offer the best value. After going through the course content, you need to consider the SEO course cost.
If the price agrees with your budget, consider applying for the online course. There are various types of SEO courses - some offer monthly subscriptions while others have a standard fee for the entire course. You might want to pay in instalments if you are unsure about taking the whole course at once.
However, choosing a standard fee for the entire course will be cheaper in the long run. Besides, some SEO courses let you keep the account, so you can refer to the materials any time you want.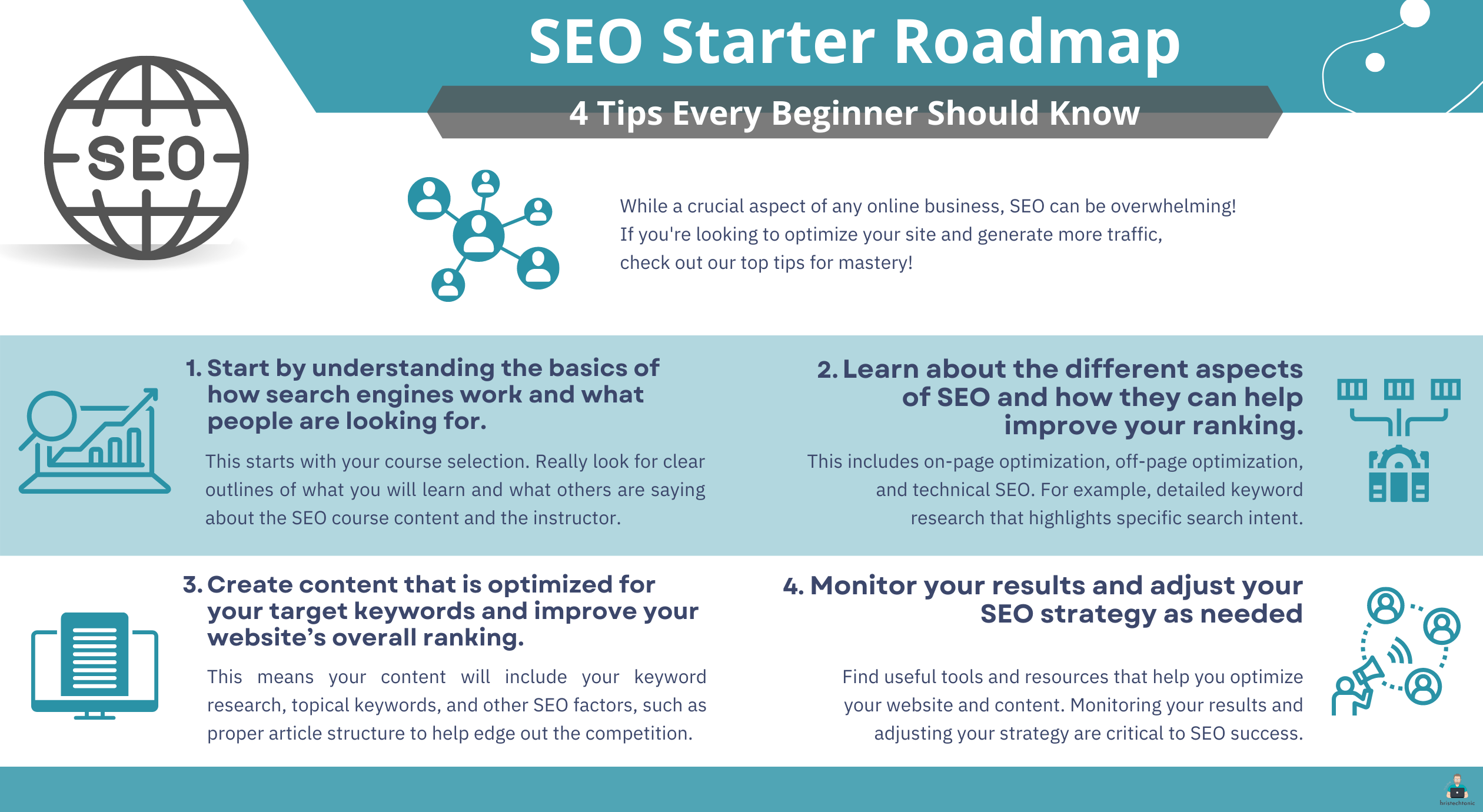 Thanks to our friends at
Crazy Egg
for the Graphic!
Choosing The Right Online SEO Course
An online SEO course will impact you with the skills needed to take your marketing game to the next level. Apply for a certain course only when you have verified the site's credibility or that of the tutor.
The most budget-friendly way to take the course is to pay for the one-time fee package. It's cheaper than paying in instalments.
For more SEO tips and tricks, feel free to contact us.