Answering the Question

BrisTechTonic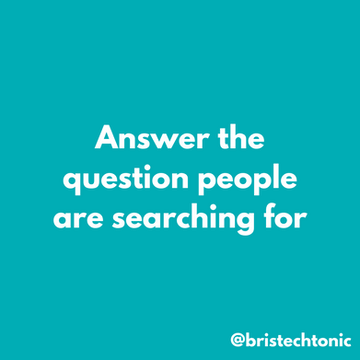 If someone Googled something, can you answer?
When you're writing content for your blog, article, content or... well, anything! Ask yourself this:
Is it answering a question people are searching for?
Let's use an example: I've got a Coffee Shop in Bristol that specialises in Gluten Free cakes.
You've filled your website with amazing content, loads of talk about your cakes, your settings, the beautiful view of Bristol Harbourside and all the speciality coffee that you offer.
However, have you actually said that you specialise in Gluten Free cakes? It's a pretty common mistake believe it or not.
Content on your website needs to answer the simple questions that people search for. A really good tool to find what people are actually searching for is Answer The Public.
If I Google "Gluten Free Cafe in Bristol" do you think you'd get found? You need to obviously spell out in your URL, Titles, content, Image names, image geo tags that you're in Bristol, your a cafe and serve Gluten Free goodies.
This site contains affiliate links to products. We may receive a commission for purchases made through these links. Thank you for supporting small businesses!