Get found by Tourists

BrisTechTonic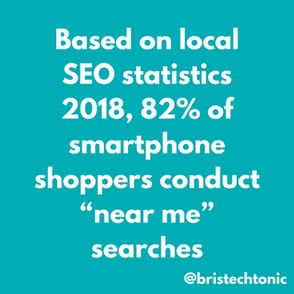 Getting found locally is an important SEO tactic
An incredible stat for Local Search is how many people look for things "near me". Imagine you're on holiday and you're looking for a place to eat "near me".
We've all had those Sunday afternoons carrying out DIY around the house and if you're anything like me, knock something over and need to fix that too. It often includes scrambling to look for my phone to find somewhere near me that sells superglue.
Maybe you've gone on holiday to a new location and looking for something close by that sells fish and chips.
Well, SEO isn't just about technical and keyword campaigns, it's often about local visibility so by including your geo-location in images and content, you can easily show up to the people who need it when they need it, and importantly where they need it.
It can be as simple as ensuring your Google My Business profile is showing your location or geotagging your images.
Make sure you claim your business in Google!
Local is a huge thing and it often benefits out of town visitors or those who don't know the area very well. Local SEO is an incredibly important part of any SEO campaign and benefits almost all smartphone users!